What's the difference between Samsung LM301B and LM301H
Should I buy Samsung LM301B? This article answers your doubts. Samsung LM301B and LM301H. what is the difference? What is the best practical TTL lamp? Samsung's first innovation has introduced a new flip-chip technology that uses white LEDs and medium power to increase the efficiency of the chip. In this article, we will explain Samsung LM301B and LM301H to you. what is the difference?
For the LM301B, Samsung also announced PPF values that are well known to be related to gardening. Since then, we have continued research and development in the field of plant LEDs, and since the launch of the LM301H, speculation about this new chip has continued.
One of the horticultural points of the LM301H is related to the "sulfur resistant coating" layer. The use of anti-sulfur ingredients as a coating method for LEDs ensures that they perform best when used in cultivation. This is because in LED lead frames, sulfur eventually penetrates the structure and destroys the silver coating. During this process, the LED often loses its ability to emit light, causing a malfunction. However, as promised in the LM301H, you can avoid this result by using a layer of "sulfur resistant coating". (Follow our brand: HELENOR)
Samsung LM301B-technical parameter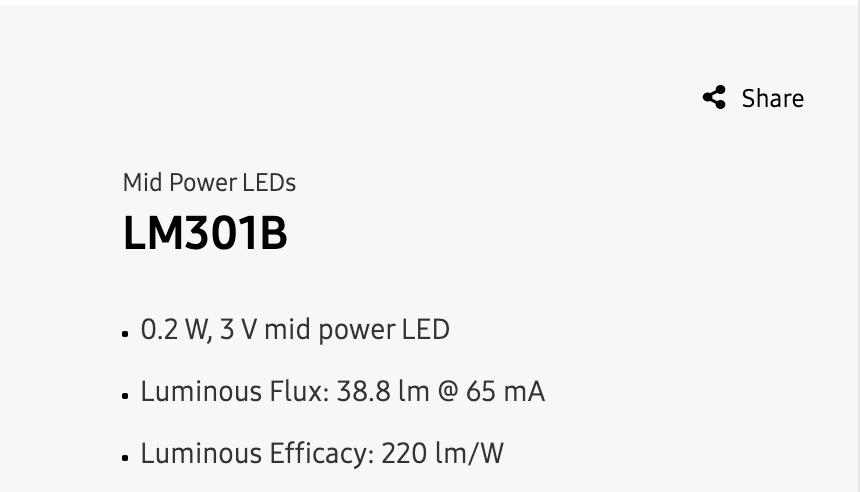 Specifications
CRI (Color Rendering Index):70 ~ 90
Current – Max:180mA ~ 200mA
Current – Test:65mA
Height – Seated (Max):0.033″ (0.85mm)
Lumens/Watt @ Current – Test:162 lm/W ~ 218 lm/W
Mounting Type:Surface Mount
Package / Case:1212 (3030 Metric)
Size / Dimension:0.118″ L x 0.118″ W (3.00mm x 3.00mm)
Supplier Device Package:3030
Thermal Resistance of Package:7.5°C/W
Viewing Angle:120°
Voltage – Forward (Vf) (Typ):2.75V

Samsung LM301H-technical parameter

Specifications




Current – Max:200mA
Current – Test:65mA
Lumens/Watt @ Current – Test:207 lm/W ~ 218 lm/W
Mounting Type:Surface Mount
Package / Case:1212 (3030 Metric)
Size / Dimension:0.118″ L x 0.118″ W (3.00mm x 3.00mm)
Supplier Device Package:3030
Thermal Resistance of Package:7.5°C/W
Viewing Angle:120°
Voltage – Forward (Vf) (Typ):2.75V

Samsung LM301B and LM301H. what's the difference?

Many people in the DIY industry claim that the data collected by the two chips is very similar, but the label between the two chips has changed, so there is a great harvest in gardening.

However, Samsung believes that the gardening version (LM301H) contains a fundamental innovation in the field of plantation, reaching 3.1 µmol / J. On the other hand, the light efficiency of the LM301B is 2.92 µmol / J , which is still an impressive value.

The main feature of the LM301H is its high photon efficiency. This makes it stand out among the average power white LEDs on the market. According to the company, this advance is possible for the following reasons:

The light-emitting layer of the chip is optimized to convert electrical energy into photons more effectively, and the improved structure of the chip minimizes light loss and provides more light to the plant … Titanium dioxide around the tip also improves durability when exposed to pesticides.

Experiment comparison:LM301B VS LM301H

Crescience analysts compared the first generation of FLUXengine (140pcsLM301B) with FLUXengine V2 (140pcsLM301H).

Experiments show that when the power of the two is the same, the sensor of FLUXengine shows 667µmol, the sensor of FLUXengine V2 shows 698µmol, and the difference between LM301B and LM301H is only 5%. As the outside world guessed, many people think that the two are the same because there is no formation. Poor technology generation.

140pcsLM301B 140pcsLM301H

How to choose LM301H and LM301B?

In fact, it has been confirmed that the LM301H was released only to distinguish between the "horticultural" market and the general lighting market. Technically the same product. As the test shows, only the best grouping is important. It also features special features such as improved sulfur resistance.No matter how you choose, happy gardening. (Related product recommendation:

COMPACT

,

ECO

)